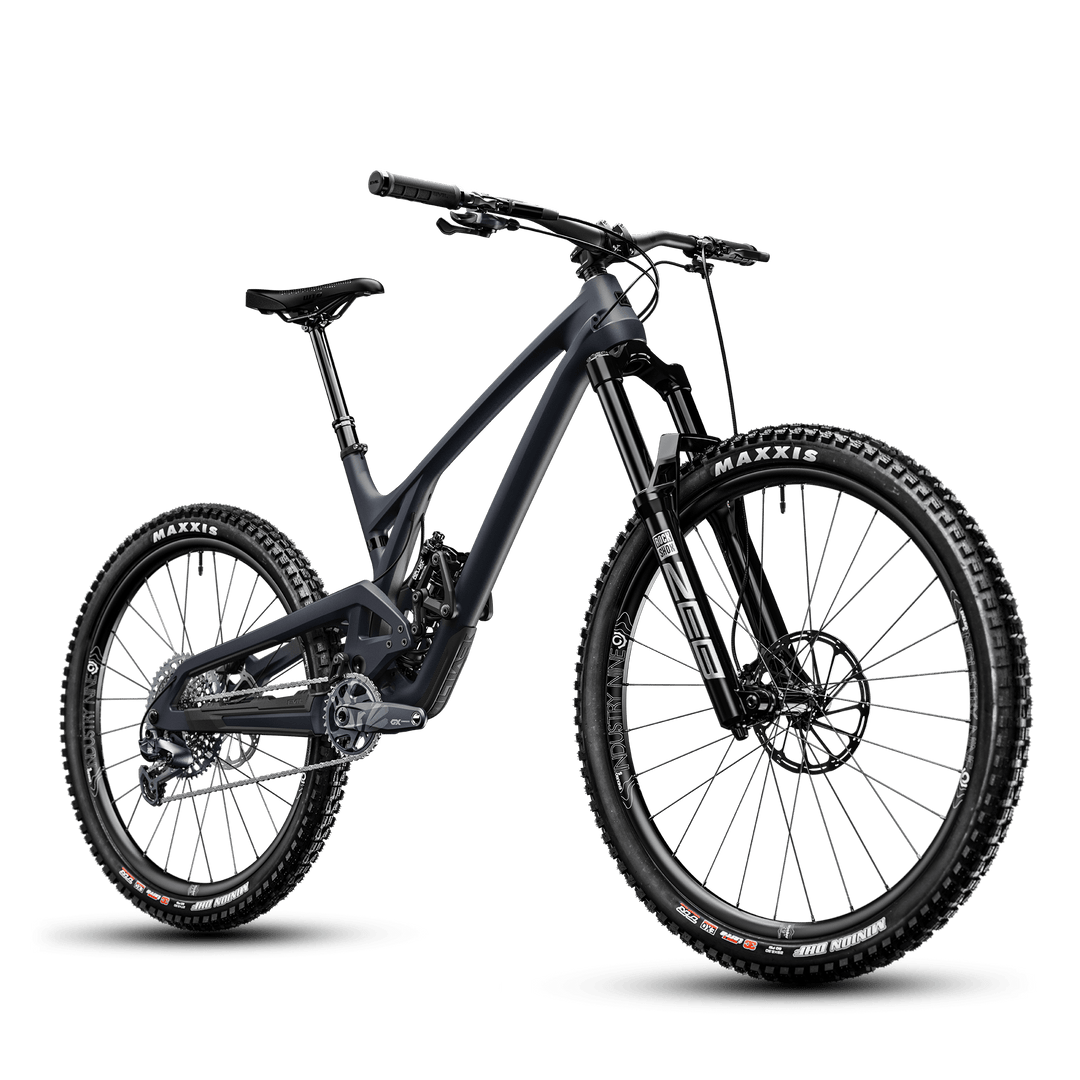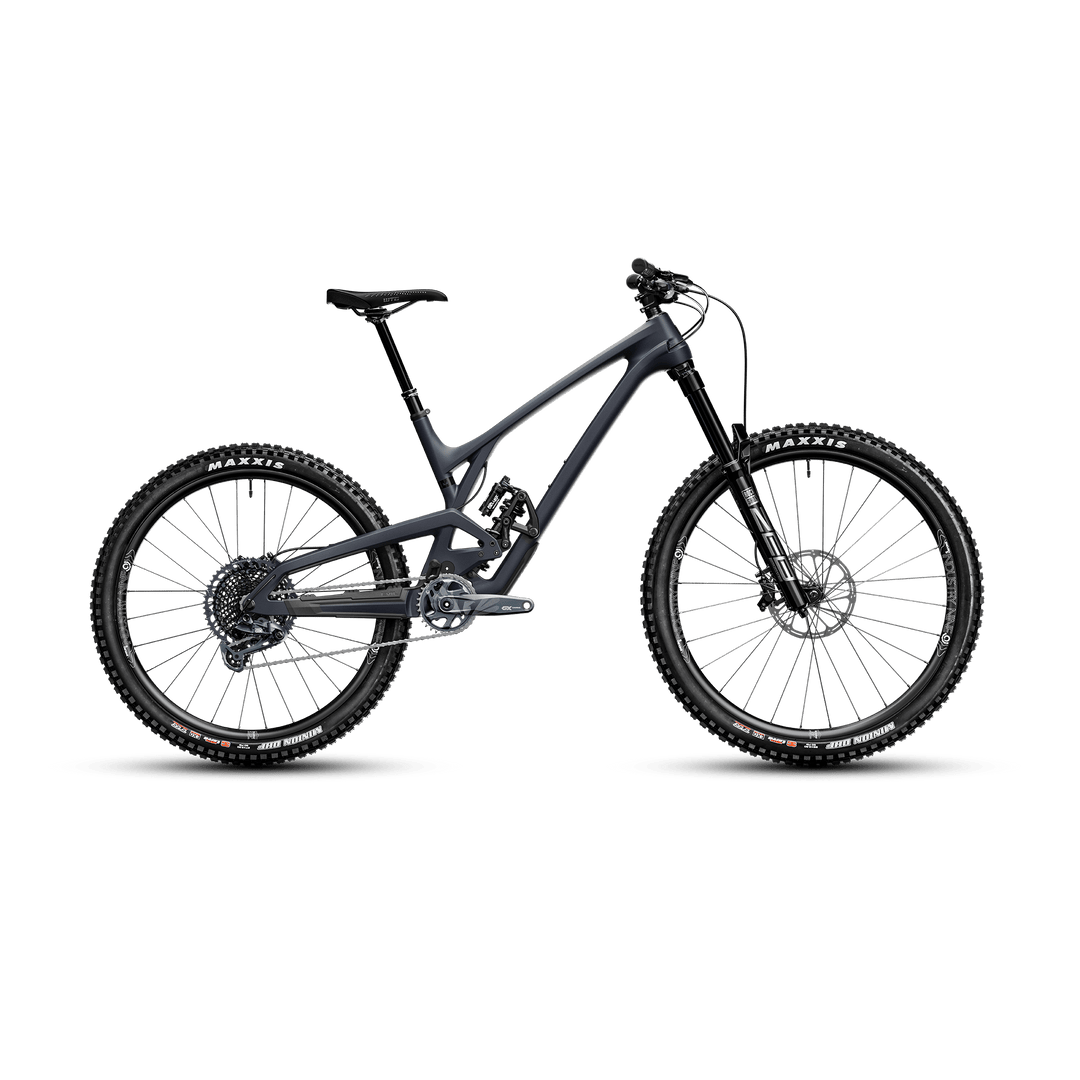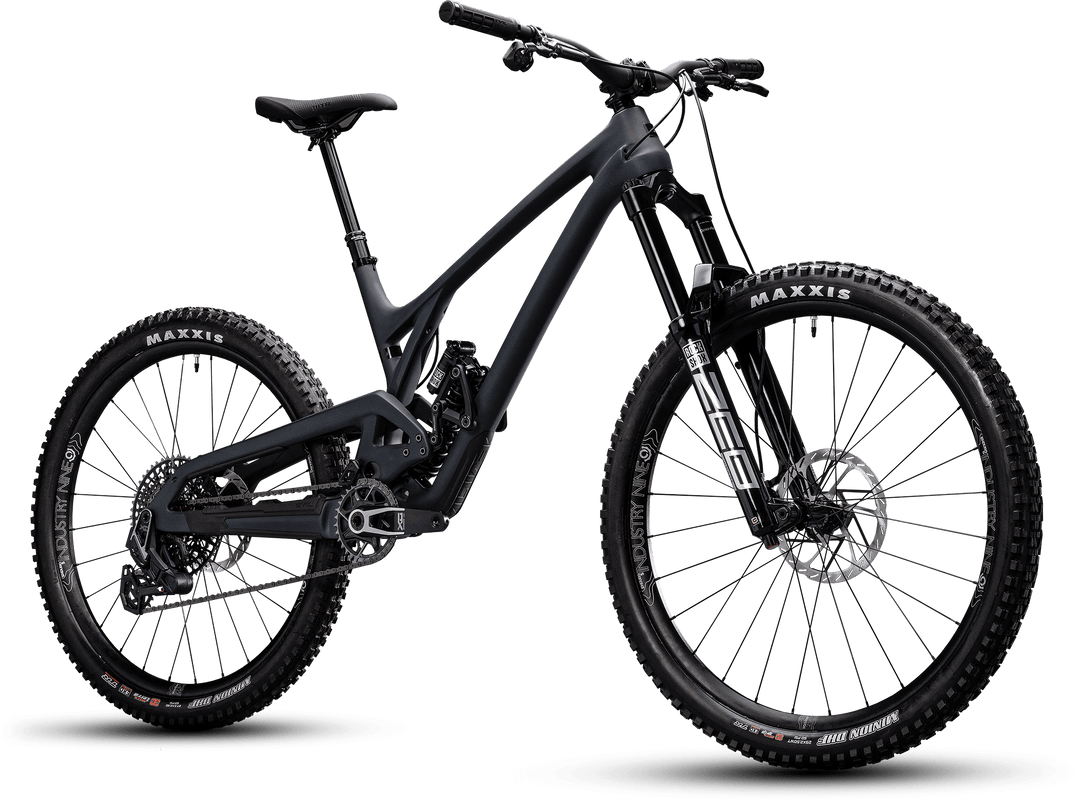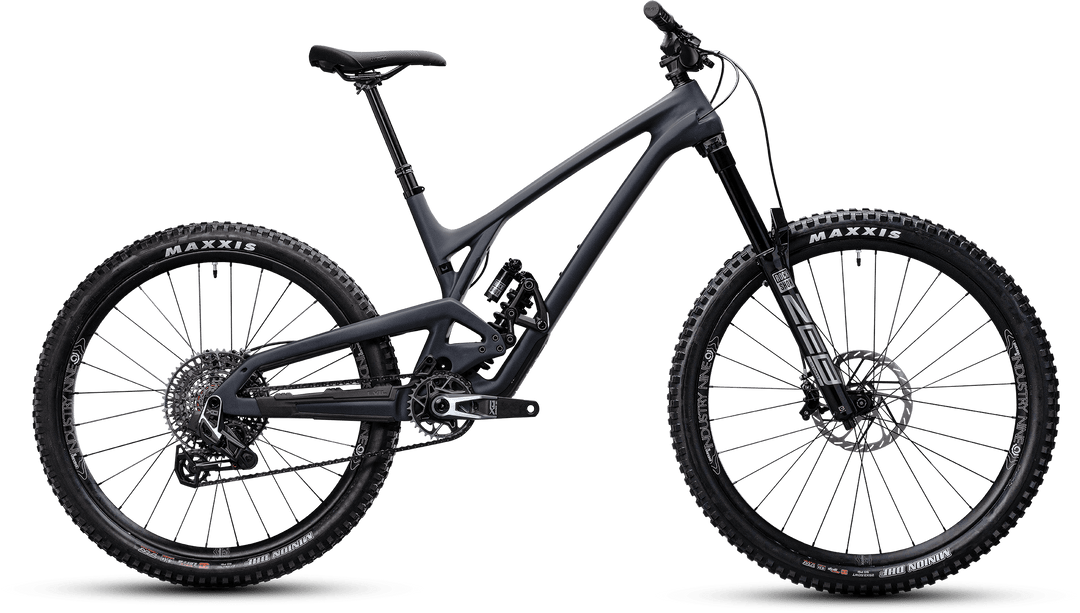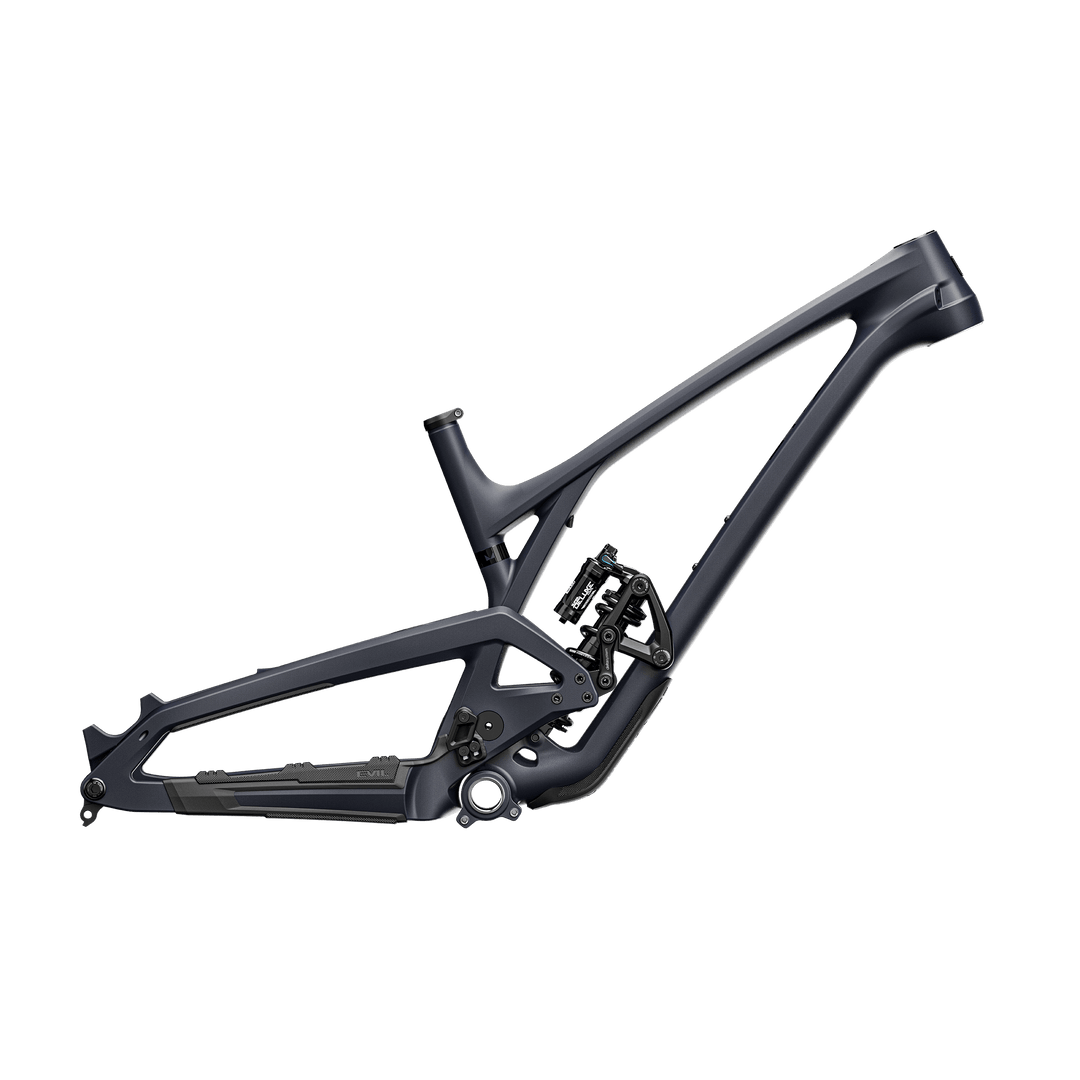 Insurgent - LS
Bike Park Battering Ram | MX 29" 170mm | 27.5" 180mm
The Insurgent LS is available as a mixed-wheel MX or full 27.5" platform. Small wheels with a 180mm fork for mind-melting laps, or MX with a 170mm fork for added stability, steeper lines, and plowing downstream. 27.5" never died. It just quit caring what people think.
Prefer full 29"? Click over the Wreckoning LS. 
Batteries on the brain? Give our Epocalypse model a gander. 
Register your Insurgent LS here. 
Regular price
$6,999.00
Sale price
$5,599.20
Save $1,399.80
/
---
FULL KIT SPECS
| | |
| --- | --- |
| Available Sizes:   | Small, Medium, Large, X-Large   |
| Frame:   | Insurgent 168mm of travel, UD Carbon, Full Internal Cable Routing, SB+ 157mm Rear Spacing Integrated Chain Guide, Threaded BB, UDH Compatible |
| Shock:   | Rockshox Super Deluxe Coil Ultimate, Trunnion 205x65, ML 320, S/M: 350lbs, L/XL 400lbs |
| Headset:   | Works Components 1 Degree Angleset |
| Headset Spacers:   | Poly Spacers 5mm black |
| Fork:   | Rockshox ZEB Ultimate, Charger 2.1 RC2, 180mm Travel, 44mm Offset |
| Handlebar:   | Evil Boomstick 7075 Alloy, Backsweep: 8°, Upsweep: 5° Clamp: 35mm, Rise: 35mm, Width: 810mm |
| Stem:   | Race Face Aeffect, Clamp: 35mm, Length: 40mm |
| Grips:   | Evil Palmela Handerson lock-on   |
| Brake - Front:   | SRAM CODE RSC |
| Brake - Rear:   | SRAM CODE RSC |
| Rotor - Front:   | SRAM Center Line, 200mm |
| Rotor - Rear:   | SRAM Center Line, 180mm |
| | |
| --- | --- |
| Brake Adapter:   | SRAM Post Mount 20mm |
| Shifter:   | SRAM GX Eagle, 12sp |
| Rear Derailleur:   | SRAM GX Eagle, 12sp |
| Cassette:   | SRAM XG-1275-B1 Eagle, 10-52T, 10,12,14,16,18,21,24,28,32,36,42,52 |
| Chain:   | SRAM GX Eagle w/Powerlock   |
| Crankset:   | SRAM GX Eagle DUB, SUPERBOOST+, 170mm Direct Mount 32t, 56.5mm Chainline, Lunar |
| Bottom Bracket:   | SRAM DUB 73mm BSA |
| Wheelset -Front:   | Industry Nine Enduro S Hydra 27.5 Internal Width: 30.5mm, Hub: 110x15mm |
| Wheelset -Rear:   | Industry Nine Enduro S Hydra 27.5 Internal Width: 30.5mm, Hub: 157x12mm |
| Tire - Front:   | Maxxis Minion DHF EXO TR, 27.5x2.5 |
| Tire - Rear:   | Maxxis Minion DHF EXO TR, 27.5x2.3 |
| Sealant:   | Stan's No Tubes Tubeless Sealant   |
| Seatpost:   | Bike Yoke Revive, S:125mm, M: 160mm, L:185mm XL: 185mm |
| Saddle:   | WTB Volt Pro   |
| Note: | Specifications are subject to change without notice |
| | |
| --- | --- |
| Available Sizes:   | Small, Medium, Large, X-Large   |
| Frame:   | Insurgent 168mm of travel, UD Carbon, Full Internal Cable Routing, SB+ 157mm Rear Spacing Integrated Chain Guide, Threaded BB, UDH Compatible |
| Shock:   | Rockshox Super Deluxe Coil Ultimate, Trunnion 205x65, ML 320, S/M: 350lbs, L/XL 400lbs |
| Headset:   | Works Components 1 Degree Angleset |
| Headset Spacers:   | Poly Spacers 5mm black |
| Fork:   | Rockshox ZEB Ultimate, Charger 2.1 RC2, 29 170mm Travel, 44mm Offset |
| Handlebar:   | Evil Boomstick 7075 Alloy, Backsweep: 8°, Upsweep: 5° Clamp: 35mm, Rise: 35mm, Width: 810mm |
| Stem:   | Race Face Aeffect, Clamp: 35mm, Length: 40mm |
| Grips:   | Evil Palmela Handerson lock-on   |
| Brake - Front:   | SRAM CODE RSC |
| Brake - Rear:   | SRAM CODE RSC |
| Rotor - Front:   | SRAM Center Line, 200mm |
| Rotor - Rear:   | SRAM Center Line, 180mm |
| | |
| --- | --- |
| Brake Adapter:   | SRAM Post Mount 20mm |
| Shifter:   | SRAM GX Eagle, 12sp |
| Rear Derailleur:   | SRAM GX Eagle, 12sp |
| Cassette:   | SRAM XG-1275-B1 Eagle, 10-52T, 10,12,14,16,18,21,24,28,32,36,42,52 |
| Chain:   | SRAM GX Eagle w/Powerlock   |
| Crankset:   | SRAM GX Eagle DUB, SUPERBOOST+, 170mm Direct Mount 32t, 56.5mm Chainline, Lunar |
| Bottom Bracket:   | SRAM DUB 73mm BSA |
| Wheelset -Front:   | Industry Nine Enduro S Hydra 29 Internal Width: 30.5mm, Hub: 110x15mm |
| Wheelset -Rear:   | Industry Nine Enduro S Hydra 27.5 Internal Width: 30.5mm, Hub: 157x12mm |
| Tire - Front:   | Maxxis Minion DHF EXO TR, 29x2.5 |
| Tire - Rear:   | Maxxis Minion DHF EXO TR, 27.5x2.3 |
| Sealant:   | Stan's No Tubes Tubeless Sealant   |
| Seatpost:   | Bike Yoke Revive, S:125mm, M: 160mm, L:185mm XL: 185mm |
| Saddle:   | WTB Volt Pro   |
| Note: | Specifications are subject to change without notice |
| | |
| --- | --- |
| Available Sizes:   | Small, Medium, Large, X-Large   |
| Frame:   | Insurgent 168mm of travel, UD Carbon, Full Internal Cable Routing, SB+ 157mm Rear Spacing Integrated Chain Guide, Threaded BB, UDH Compatible |
| Shock:   | Rockshox Super Deluxe Coil Ultimate, Trunnion 205x65, LN L1 HB 38TS, S/M: 350lbs, L/XL 400lbs |
| Headset:   | Works Components 1 Degree Angleset |
| Headset Spacers:   | Poly Spacers 5mm black |
| Fork:   | Rockshox Zeb Ultimate, Charger 3 RC2 W/ ButterCups, 27.5", 180mm Travel, 44mm Offset |
| Handlebar:   | Evil Boomstick Carbon, Backsweep: 8°, Upsweep 5° Clamp:35mm, Rise: 35mm, Width: 810mm |
| Stem:   | Race Face Turbine-R, Clamp: 35mm, Length: 40mm |
| Grips:   | Evil Palmela Handerson lock-on   |
| Brake - Front:   | SRAM Code Silver Stealth |
| Brake - Rear:   | SRAM Code Silver Stealth  |
| Rotor - Front:   | SRAM HS2, 200mm |
| Rotor - Rear:   | SRAM HS2, 180mm |
| | |
| --- | --- |
| Brake Adapter:   | SRAM Post Mount 20mm |
| Shifter:   | SRAM AXS Pod Controller |
| Rear Derailleur:   | SRAM X0 Eagle Transmission Derailleur |
| Cassette:   | SRAM X0 Eagle Transmission Cassette, 10-52T, 10, 12, 14, 16, 18, 21, 24, 28, 32, 38, 44, 52 |
| Chain:   | SRAM X0 Eagle Transmission Flat Top Chain w/Powerlock, 116 Link |
| Crankset:   | SRAM X0 Eagle Crankset, DUB, 170mm, Direct Mount 32t, 55mm Chainline, Aluminum |
| Bottom Bracket:   | SRAM DUB 73mm BSA, 7.5mm Spacer Drive/3mm Spacer Non-Drive |
| Wheelset -Front:   | Industry Nine Enduro S Hydra 27.5 Internal Width: 30.5mm, Hub: 110x15mm |
| Wheelset -Rear:   | Industry Nine Enduro S Hydra 27.5 Internal Width: 30.5mm, Hub: 157x12mm |
| Tire - Front:   | Maxxis Minion DHF EXO TR, 27.5x2.5 |
| Tire - Rear:   | Maxxis Minion DHF EXO TR, 27.5x2.3 |
| Sealant:   | Stan's No Tubes Tubeless Sealant   |
| Seatpost:   | Bike Yoke Revive, S:125mm, M: 160mm, L:185m XL: 185mm |
| Saddle:   | WTB Volt Pro   |
| Note: | Specifications are subject to change without notice |
| | |
| --- | --- |
| Available Sizes:   | Small, Medium, Large, X-Large   |
| Frame:   | Insurgent 168mm of travel, UD Carbon, Full Internal Cable Routing, SB+ 157mm Rear Spacing Integrated Chain Guide, Threaded BB, UDH Compatible |
| Shock:   | Rockshox Super Deluxe Coil Ultimate, Trunnion 205x65, LN L1 HB 38TS, S/M: 350lbs, L/XL 400lbs |
| Headset:   | Works Components 1 Degree Angleset |
| Headset Spacers:   | Poly Spacers 5mm black |
| Fork:   | Rockshox Zeb Ultimate, Charger 3 RC2 W/ ButterCups, 29", 170mm Travel, 44mm Offset |
| Handlebar:   | Evil Boomstick Carbon, Backsweep: 8°, Upsweep 5° Clamp:35mm, Rise: 35mm, Width: 810mm |
| Stem:   | Race Face Turbine-R, Clamp: 35mm, Length: 40mm |
| Grips:   | Evil Palmela Handerson lock-on   |
| Brake - Front:   | SRAM Code Silver Stealth |
| Brake - Rear:   | SRAM Code Silver Stealth  |
| Rotor - Front:   | SRAM HS2, 200mm |
| Rotor - Rear:   | SRAM HS2, 180mm |
| | |
| --- | --- |
| Brake Adapter:   | SRAM Post Mount 20mm |
| Shifter:   | SRAM AXS Pod Controller |
| Rear Derailleur:   | SRAM X0 Eagle Transmission Derailleur |
| Cassette:   | SRAM X0 Eagle Transmission Cassette, 10-52T, 10, 12, 14, 16, 18, 21, 24, 28, 32, 38, 44, 52 |
| Chain:   | SRAM X0 Eagle Transmission Flat Top Chain w/Powerlock, 116 Link |
| Crankset:   | SRAM X0 Eagle Crankset, DUB, 170mm, Direct Mount 32t, 55mm Chainline, Aluminum |
| Bottom Bracket:   | SRAM DUB 73mm BSA, 7.5mm Spacer Drive/3mm Spacer Non-Drive |
| Wheelset -Front:   | Industry Nine Enduro S Hydra 29 Internal Width: 30.5mm, Hub: 110x15mm |
| Wheelset -Rear:   | Industry Nine Enduro S Hydra 27.5 Internal Width: 30.5mm, Hub: 157x12mm |
| Tire - Front:   | Maxxis Minion DHF EXO TR, 29x2.5 |
| Tire - Rear:   | Maxxis Minion DHF EXO TR, 27.5x2.3 |
| Sealant:   | Stan's No Tubes Tubeless Sealant   |
| Seatpost:   | Bike Yoke Revive, S:125mm, M: 160mm, L:185m XL: 185mm |
| Saddle:   | WTB Volt Pro   |
| Note: | Specifications are subject to change without notice |